About
What's different about commercial painting in Peachtree City?
Industrial Strength endurance
You need your floors to look great and last a long time, too. Our epoxy paints, in hundreds of colors and styles, last for decades. They are easy to clean and maintain and will look good for years to come. 
Easy Cleaning
Epoxy paint has a very hard non-porous layer at the top that protects the floor beneath from oil, dirt and other spills and debris that can cause your floor to look terrible. Because of that hard layer, our paint is easy to clean and will stand the test of time for decades, potentially. (Depending on total foot-traffic. Regardless, there is no stronger paint.)
Color Color Color
Because your space is there to promote a specific purpose, color options are nearly unlimited. Got a daycare? You can choose bold colors like red, yellow and blue. Have a spa? Serene tones like greens, blues, and rich tones like browns and rust-colors are great. Office spaces can benefit from color, too.
We cater to you
As Peachtree City's most trusted painter, we make sure that you are at the center of our business. If you need other work done and we can support it, we do it. We of course guarantee our work and will be happy to come out and touch up the paint when needed.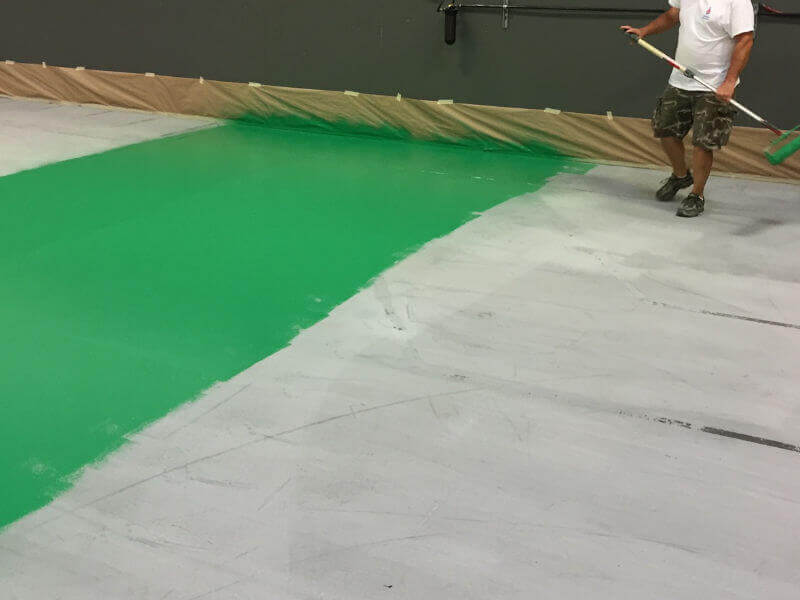 Drywall Repair
Make Your Space Look Fantastic!
Some painters don't do "extra" work like preparing the job properly or repairing drywall, trim or other parts of your space. We do.
Indeed, we even remodeled an entire kitchen once to meet the customer requirements. In the commercial space, we don't expect too much remodeling, but we are happy to repair all the dents, dings and outright holes that might be in your space.
Call Us at (404) 777-1232
Schedule a walkthrough quote today!
Commercial Painting Job
Warehouse Floor Repainting
This warehouse in Peachtree City (off Dividend) was getting long in the tooth. Scrapes and marks from forklifts and thousands of shoes over years and years made the flooring worn out. They called us to come and repaint the entire floor this bright green color for better visibility and contrast. We got the job done within a couple of days (epoxy takes a while to dry) and they are so pleased with the result!