Stair Painting
in Peachtree City
About
Why Paint The Stairs?
THE CURB APPEAL OF STAIRS
A house consists of many areas that need attention, from the gutters and the porch to the house's attic. What catches your eye when you enter a home? To most people, it is the color and decorations on the walls. For others, it is the house's arrangement from the moment you take off your shoes at the entrance. While to others, the hangings from the chandelier, the floor, and the flower vases with pretty flowers. Typically, most of us take care of the walls, the roof, and the furniture in our houses, but who often thinks about the stairs?
Well, stairs are often an essential part of a house in Peachtree City.
MAKE A STATEMENT
Many house designs in the South allow for staircases, and it is hard to ignore them in any home. They are always there staring back at you as you paint the walls and forget all about them. Stairs are for functionality to help us move around the house. But besides that, they are a beautiful part of the place that deserves not to be forgotten. As you paint your home, you should remember the stairs because, believe it or not; they make a statement to all your guests. Why get stuck with a dull, old staircase in South when all the vibes point towards happy, creative, and sometimes classy?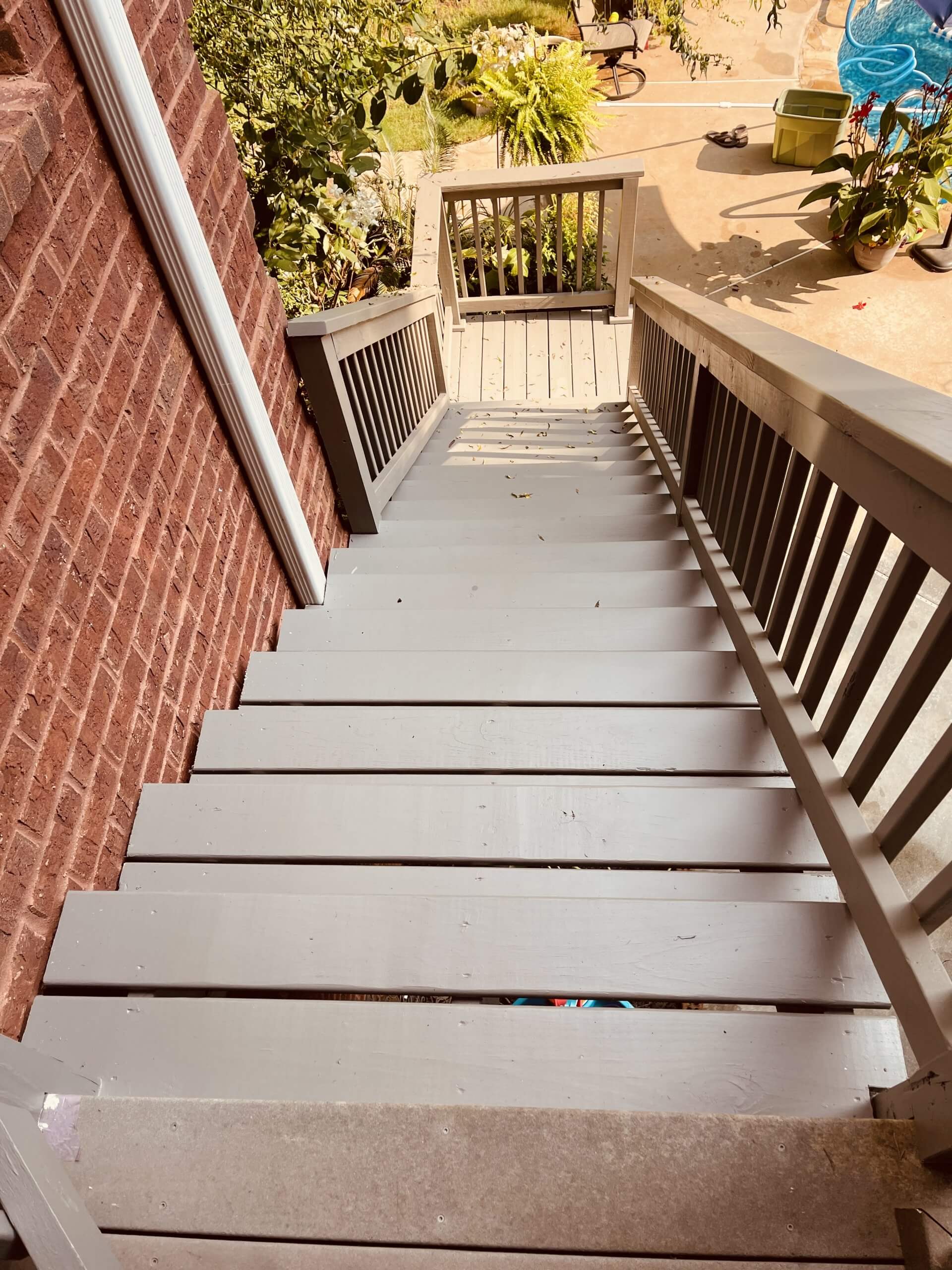 How do you paint the stairs?
Beautiful, Stylish and Bold!
Stairs may look very simple to paint, but there is a lot that goes into the risers, railings, and treads of the staircase. With the help of a professional, you can transform your ordinary looking staircase into a beautiful statement and add to the design of your home. Remember, stairs are used very frequently, and the painting of them can be quite intricate. Good prep work is required to ensure that the final result is not disappointing, that is why we recommend using a professional (like us!) to get the best results possible.
Call Us at (404) 777-1232
Schedule a walkthrough quote today!
Stair Painting Transformation
Ugly to Gorgeous
We start with cleaning and sanding your stairs (if needed) with tools like a battery-operated sander. You can feel with your hand to ensure the wooden surface is smooth enough. There are some places where the sander will not reach; here, we use medium grit and paper to rough up the surface. Then we vacuum all the dust with a brush attachment and then wipe off with a damp towel. All these procedures take a good amount of time. We advise hiring professionals. It prevents mistakes.
Which paint does One Touch Painting use?
After prepping, you have to paint a primer and let it dry before painting a topcoat. The paint we use us durable and not slippery. It is a Sherwin Williams paint made for high-traffic areas.
If you do this on your own, most people use semi-gloss paint to protect their stairs from dents caused by heels and other movements up and down the stairs. Semi-gloss paint does not require sanding the stairs as much and is easy to clean. There are many house designs in Georgia that have stained treads that can be combined with a color. In most homes, you can paint the risers and stain the treads (like we did in these pictures.) Risers look better in white and dark stains on the tread hide dents entirely. You do not have to worry about durability because semi-gloss paint, floor paint, and other paints used to paint stairs ensure durability. Painting of stairs in Peachtree city has never been better.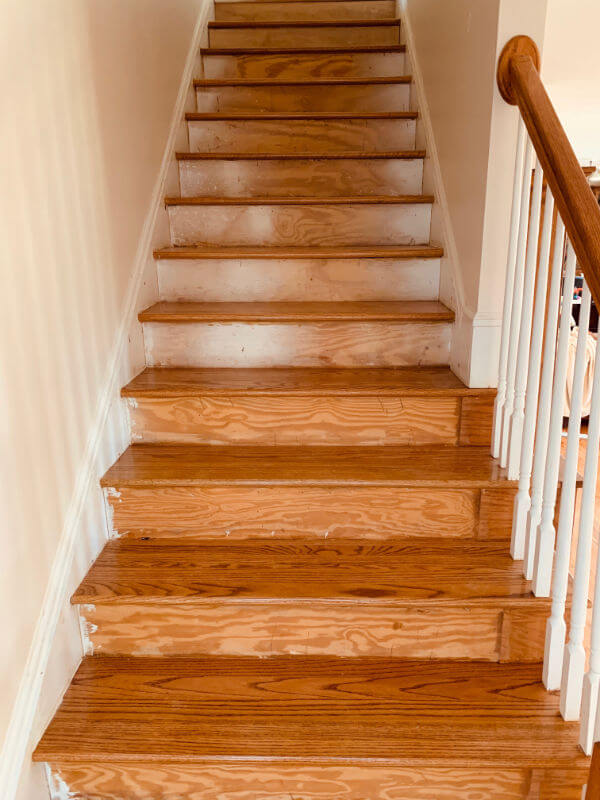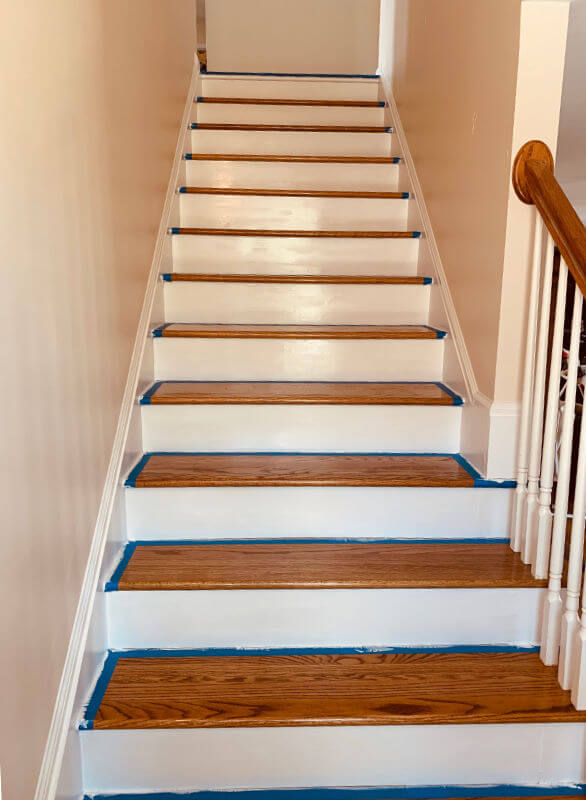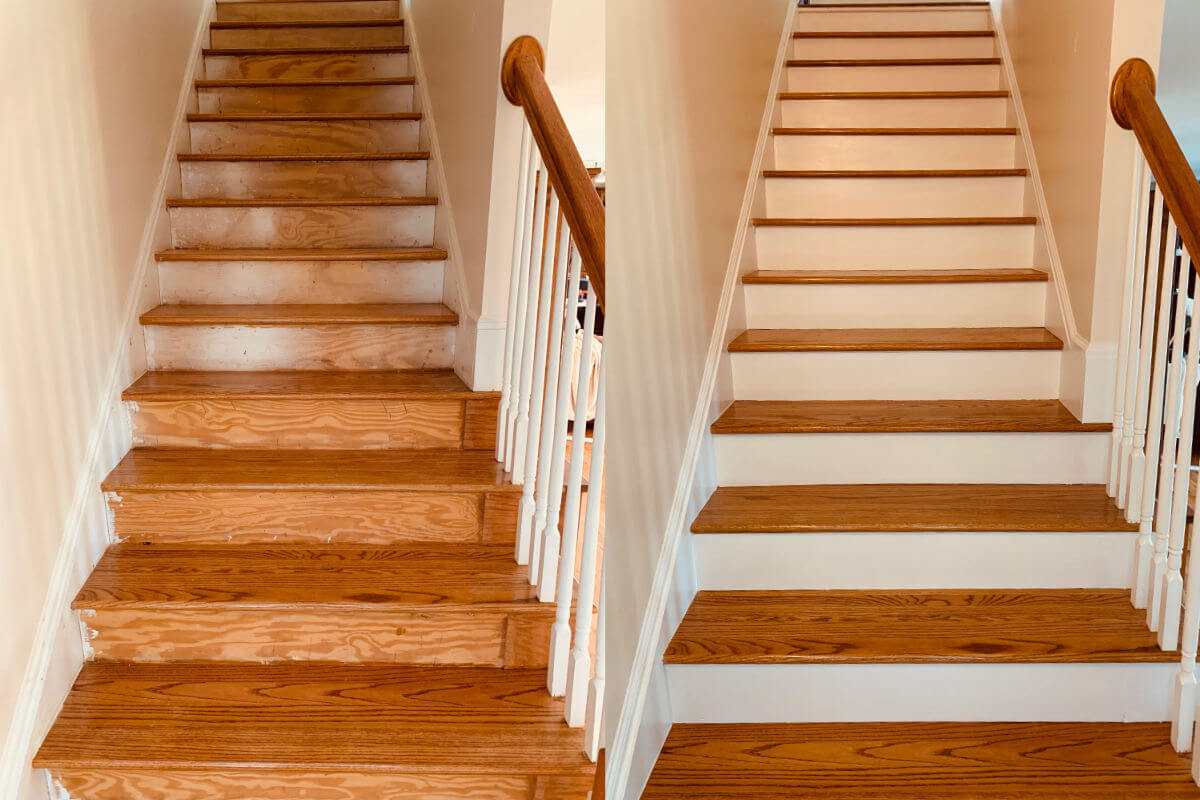 Get a Quote Fast
Request an Online Quote