Exterior House Painting
in Peachtree City, GA
Give Your Home a Facelift with Exterior House Painting in Peachtree City, GA
Whether you're looking to flip, sell or remain in your forever home, there's no denying that curb appeal increases your property value. In most cases, a professional coat of fresh paint is all you need to kick up your house pride and take it from dull to 'Wow'! Let us paint your home's exterior with no hassle, headache or worry.
Why Paint The Exterior Of Your Home?
Your current exterior paint is peeling. Once paint peels away, your home could be exposed to the elements, causing long-term damage. If you notice peeling paint, it's a sure sign that the whole exterior is in need of a fresh paint job.
There may be other issues going on. No surface lasts forever; if you've already taken the time to replace rotting wood or cracked stucco, a fresh coat of paint will protect it from the elements.
Fading colors. The elements can cause your exterior paint to fade over time. If you find the color is looking a bit flat, consider a fresh coat of paint to brighten your home and protect it.
The color is dated. If your home's exterior makes you want to do the hustle (out of there), it might be time for a color refresh.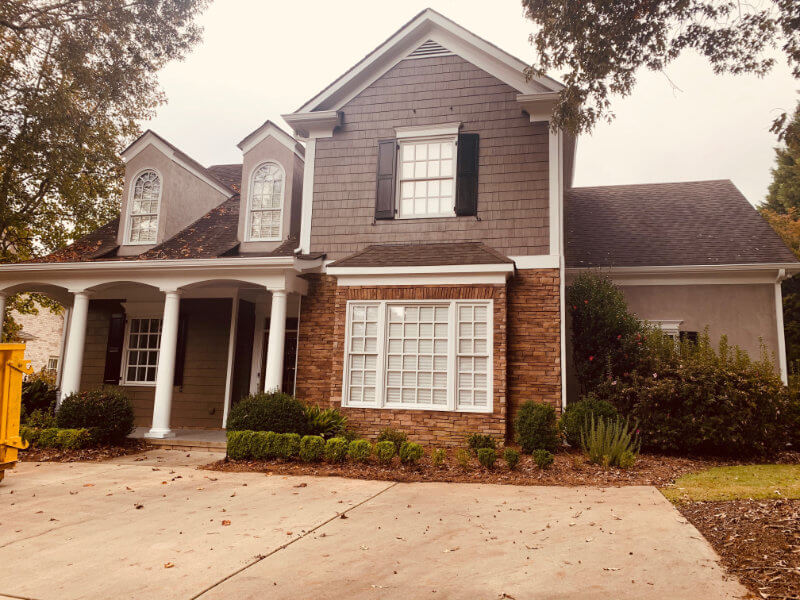 Exterior Painting Near You
What One Touch Painting Does For You
Our expert house painters have years of experience painting every type of wall, outdoor material and surface, including:
Wood
Brick
Composite
Vinyl and Aluminum Siding
Stucco
EIFS (Exterior insulation and finish system; synthetic stucco)
Trim
Decks
Railings
More!
Our first priority is making sure your service needs are met. Not sure what color scheme to choose? Let our professional painting crew help you make a selection during your consultation. Once we arrive, we'll prepare your house's surfaces for painting, including:
Covering plants and trees
Filling holes or cracks in the walls and along the trim
Removal of any mold or mildew
Power washing surfaces
We guarantee your home will be so beautiful, you'll want to frame it. Call now to book your free estimate!
Call Us at (404) 777-1232
Schedule a walkthrough quote today!
C'mon! Get a free quote by filling in the form below.
Your home will thank you.
We Provide Expert
Exterior Painting Services
This beautiful, traditional 5-bedroom home was looking, well…a little tired. The brick and siding were virtually the same, dark color, and the owners desperately wanted their home to stand out on the block. What you can't see from this picture is the mold that was beginning to accumulate in the white trim, making it look almost grey. The mildew in the trim was also causing the caulking around the windows to crack, letting the heat out and the elements in.
At the free consultation, we surveyed the home from top to bottom, and made color scheme suggestions based on the family's aesthetic taste, similar homes in the neighborhood and our own professional input.
Prior to painting their home, we covered nearby trees and shrubs, protected their decks, removed mold from the trim, and filled in existing cracks and holes in the brick. We even re-caulked their windows (for an additional cost).
This family opted to lighten the neutral grey stucco, which contrasts nicely against the golden brick and really shows off the shaker-style shingles. The newly-painted trim and posts sparkle in brilliant eggshell white, showing off the bones of this beautiful Century home. The owners were thrilled with the results!
Live in Peachtree City? We can do the same for your home — Call One Touch Painting at (404) 777-1232 now for your free consultation.